Visual West Art
Pro Member
Member Since November 01, 2004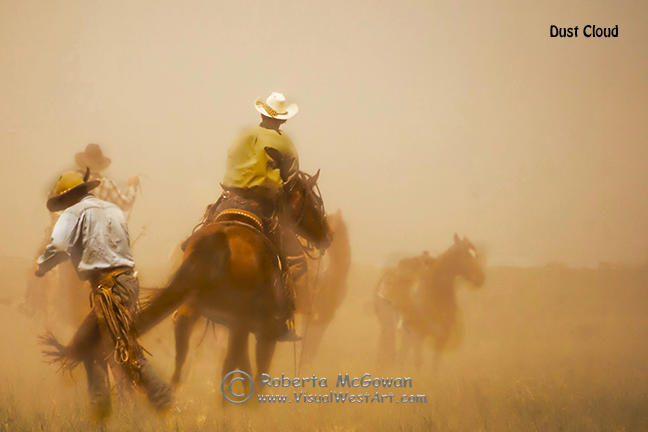 Visual West Art by Roberta McGowan is based upon the pledge to honor the western spirit by preserving moments of natural splendor.

""The mages which I create are dynamic and thought provoking;portraying fluid, real life experiences. Strong, true colors reflect the tough and gritty lives of the horses, cowgirls and cowgirls depicted.

I make my images from the perspective of the subjects, yet the viewer is an integral part of the artistic process. The viewer sees what the subjects are feeling,and the subjects appear if they are responding to the viewer's reactions.
With a photojournalist approach, my style is powerful yet subtle. I work to savor magical human and equine connections.""

From her earliest years with a point and shoot camera to professional newspaper photographer to corporate photojournalist to creative artist, Roberta has carried with her the joy of interpreting those special moments.

Roberta entered the world of Western photography with interpretive images which find that energy which survives and thrives in the Rocky Mountains.
* Honored by the New Jersey Press Association, and the New York Institute of Photography
* Named Photographer of the Year by the Philadelphia Chapter of Women in Communications
* Active with the Roaring Fork Valley Horse Council
* Member of the Association of Professional Rodeo Photographers, the Equine Photographers Network, and the Professional Photographers of America
Available Services:
Art,
Advertising & Commercial,
Black & White,
Photography Clinic,
Digital,
Event or Show,
Editorial,
Farm,
Graphic Design,
Merchandise,
Portrait,
Stock.
Visual West Art
Carbondale, Colorado, United States 81623
Selected Images
contact this photographer
Would you like to contact this photographer? Use the form below to email the photographer through our website. Please note that the Equine Photographers Network cannot control how quickly you receive a response.