An Equine Photography Class with Terri Cage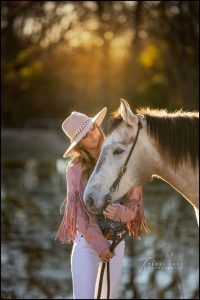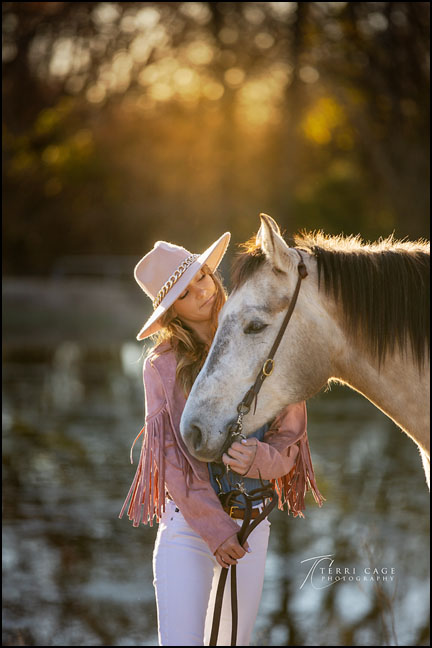 If you feel challenged when creating portraits of horses with people, here is the perfect opportunity to learn tips and tricks of posing horses and humans together. Join Terri Cage as she takes you through the steps to create an  unforgettable experience for your client with images they will treasure. Develop a safe and pleasant environment to make your client comfortable if anything unexpected may happen. Learn what images are popular and how to achieve them using your style and bringing out the emotion in the session.
Lessons will be presented with video demonstrations of live sessions where Terri will explain what she is doing and why. There will also be several PDF's. Videos that may be accessed via a private Facebook page as well as a private You Tube link. Students will be assigned a practice session where they can present their images for critique.
There are recorded webinars covering marketing, Q&A and image critiques. All materials, questions and discussions may be available  in the Facebook group.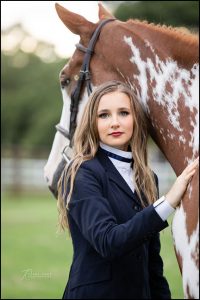 This class will be presented on demand, with no time restrictions.
All materials will be accessible via a private Facebook group.
Additional private mentor sessions with Terri are also available.

What will be covered:
Safety during the session: Moving around the horse with equipment. Dealing with horses with separation anxiety. Watching and understanding the horse's body language. Identifying when the horse is done or needs a break. Additional safety tips will be shared and discussed.
Recommended equipment: Camera, lenses, tools for horse's expression "ear getter uppers."
Assistants: Why are they needed? Where do you find them? Video of an assistant during a session.
Preparing your client for a photo session. Example of Terri's client magazine. Preparing horse, clothing ideas, weather conditions.
Posing: Creating a session workflow, making it look effortless, when it is not. Video of a session. Examples of good/bad poses. Working with an uncooperative or unruly horse. Creating poses with these horses. Creating and capturing connection.
Details: It's the tiny details that can make or break an image. Where to place hands, the horse's expression, stance and angle. Using the horse to hide human flaws and using the human to hide the horse's flaws. How to block background distractions. Locations and image samples of posing details to look for.
Working with an uncooperative horse, working with less than ideal situations and conditions.
What poses sell? Image samples. How to learn from your sessions what is popular with your style.
NEW: Marketing Webinar. What situations would a horse and human photo session be needed? How do we find and target potential clients.
NEW: Posing humans only! Watch as Terri teaches a mentor session instructing models without horses to pose and explain why we pose the way we do. These models will pose with horses as well.

Assignments:
All assignments are optional, but highly encouraged for your own benefit.
When your assignment is complete you can post on the Facebook Group for critiques. 
We will have a rating formula for how you want to be critiqued.
Make a list of equipment you have and what you need/want. Suggestions can be made if requested.
Find possible assistants.
Develop/create client magazine or other methods to prepare your client for their session.
Do a photo session.

How the Class works:
You do not need to be an EPNet member to take this class. Members and past attendees are eligible to receive a discount.
The class info, links, PDFs and critiques will be accessible on a private Facebook group.
The class will be available beginning March 25th. Live webinars will be announced. All webinars will be recorded and available to watch at a later date.
Participants will be able to upload work for their assignments to the group and critiques will be given. You will be able to select a rate level of critique you are comfortable with.
Once you sign up for the course, you will be emailed the Facebook group link to join. Please be patient as this is not automated, expect an email response within 24 hours.
EPNet Policy: course fees are non-refundable. It is up to attendees to utilize the course.
Class cost:
Non-Members & Basic Members: $119


EPNet General & Pro Members: $99



(You must be logged in before clicking button to receive your member discount)
Learn more about membership and its benefits.
Private Mentoring:
Would you like more help from Terri?  Sign up for a 45 minute private follow up at registration time or return to the above form later, enter your information and select only Private Mentoring and submit.
Have you taken this class in the past and would like
to take it again? Contact us about a discount.
About Terri:
Terri Cage is based in a small town in North Texas, very close to the heart of horse country. Being a lifelong horse lover and owner, Terri started her photography emphasis with horses and people with her horses. Terri added senior portraits to her collections after several customers asked if she would photograph their senior portraits with their horse. Terri enjoyed photographing seniors and a new niche within her photography business was started. Terri has a degree in fashion and design, which helps in choosing the best fashion and colors that complement each model. Her knowledge of horses helps in understanding the best angles and the correct timing to make a horse look its best. Equine photography takes a great deal of patience and it is something she has plenty of. She has spent countless hours studying the behaviour, movement, and conformation of horses. She takes pride in making her clients and horses look their best. Terri also keeps a large collection of equine stock images and has been published in numerous publications. Terri loves to share her experience and hosts several classes, workshops and styled shoots throughout the year. Visit Terri's website.