Sombrero Ranch Photo Workshop and Great American Horse Drive
Craig, Colorado April 29th - May 7th, 2023
This will be our fifteenth year offering this unique and exciting event that attracts photographers from around the world. Images created here have been highly rated in art shows and have also been licensed on catalogs, magazines and stock archives.  While the shoots and set ups are dependent on weather conditions and the availability of our cowboys, we will do our best to accommodate our photographers' ideas and requests. If you want to add horses and western lifestyle imagery to your portfolio here is the perfect opportunity to photograph authentic working cowboys in a ranch setting working herds of horses.
Photographers Scott Trees, Mark Kettenhofen, Sherron Sheppard and Carien Schippers will lead the two days shooting at the Sombrero Ranch which will involve herds of horses, pole corrals, cowboys driving horses through water and epic landscapes, as well as portraiture, silhouettes and detail shots. We will also have the opportunity to photograph a beautiful herd of Longhorn cattle. Our photographers will have exclusive access to working cowboys as they go about their activities at the ranch and all images made during the workshop will be model released.  We will make use of the best light and weather at both ends of the day. We will also be offering class sessions during the week that will cover a variety of topics including Composition & Critique and Photoshop Tips & Tricks with Sherron Sheppard, video and time lapse techniques and mirrorless and DSLR technology with Mark Kettenhofen and Lighting and Portraiture with Scott Trees & Mark Kettenhofen.
We have also included some free time in the schedule to allow photographers to explore the unspoiled wild areas of Northwest Colorado which is rich in wildlife as well as the wild horses of the Sand Wash Basin.
The Great American Horse Drive activities will begin with the Outback Steak Fry on Thursday, followed on Friday with a horse handling session at the ranch. Saturday and Sunday will treat us to two full days of excitement photographing the horse drive. Trucks and drivers will be provided during the horse drive. Spots are limited so get signed up to save your spot!
Please note:  If you are attending this event to create commercial images we can not guarantee model releases for images created during the Horse Drive portion from all the riders. All images created during the workshop portion will be photo released.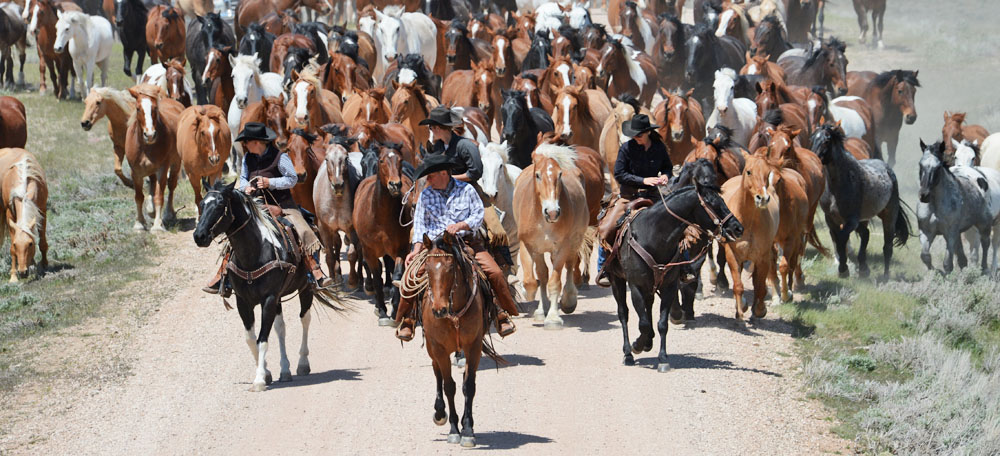 The Details
Experience, Fitness Level and other suggestions:
We welcome photographers of all skill levels to this event, however a basic working understanding of your gear will allow you to have the most satisfactory experience. If you are a serious amateur or a working photographer here is a unique opportunity to have fun, be creative and achieve your vision. Please let us know your specific goals or ideas in advance and we will do our best to help you achieve them.
Note that this is rugged sage brush country at 4k feet altitude. Expect walking over rough terrain. If you can easily walk up to a half mile at a stretch you should be fine. Trucks will be provided to get photographers and their gear to most locations. There is some riding in the backs of trucks (foot stools and hay bales will be provided!). Weather can be very changeable from cold, wind and snow to hot and sunny - layered clothing is recommended. Expect dust, wind, possibly mud and a wide range of temperatures. Our shoots will be dictated by the light and weather.
Travel and Accommodations:
The Ranch is located 12 miles west of Craig, our home base will be at the Hampton Inn in Craig (more information soon). The closest airport is the Steamboat Springs airport (HDN) about 40 minutes east of Craig, and pick up and drop off at the airport will be available on request. Craig is a scenic four hour drive from Denver through the Rocky Mountains. Build in some extra time to enjoy this amazing scenic drive!
What's included:
Breakfast is available at the hotel, lunch and dinner will be provided during workshop shoot days. Lunch will be provided during the Horse Drive. Shops and restaurants are also close by. Transportation will be provided for those flying in to the Hayden airport but must be arranged for in advance. Trucks and drivers will be provided during the Horse Drive and we encourage car sharing and carpooling during the workshop. Lodging is not included. We will make every effort to match attendees with roommates in advance.
We hope you will join us for this one of a kind event,
it will be something you will remember for the rest of your life!
Event Registration
Cost:
The Photo Workshop (April 29 - May 4, 2023) is $2095 for EPNet members*, $2295 for non-members.
The Horse Drive (May 4 - May 7, 2023) is $2095 for EPNet members*, $2295 for non-members.
The Whole Event! (April 29-May 7, 2023) is $3395/members*, $3595/non members.
Registration fee does not include lodging or transportation to the event. Some meals are included.
A $350 non-refundable deposit holds your spot. Balance is due by April 1, 2023.
SIGN-UP NOW
Register as an EPNet Member (you must be logged in to receive discount)
*Please note: Member discount is for General or Pro Members.
It does not apply to Basic or Trial members. See our member benefits.

Register as a Trial, Basic or Non-Member 
Covid-19 Notice: We will require a negative test within 5 days of arrival. 
This policy is subject to change based on current conditions. 
Should circumstances beyond our control require that we cancel this event all fees paid will be refunded.